Round Embossing Tactile Buttons FPC Circuit LEDs Embeded Membrane Switch Membrane Keypad LTMS0093

LTMS0093 is a kind of FPC circuit metal domes tactile membrane switch. Due to there is a big display window on the keypad so antiscratch is necessary for window. For this keypad we used Autoflex EBG material which is antiscratch and the circuit layer is single side copper flex FPC circuit with 8pcs single color Everlight LEDs SMT assembled on it. The buttons are round embossed with tactile metal domes which can giveend user a nice click feedback when they using it.
Membrane Switch is a kind of interface operation product. Many devices, equipments, instrumens etc. need the operation interface panel. To design different symbols, diffeent colors can give users a friendly interface window and can design the circuit layer. Use metal domes contact the conductive pads on circuit laer then can get your wanted function when you press relevant buttons. LUPHITOUCH certified by ISO9001:2008 can design and manufacture various kinds of membrane keypads to meet your requirement. In addition we also have our own PCBA factory can provide one stop solution service for your projects.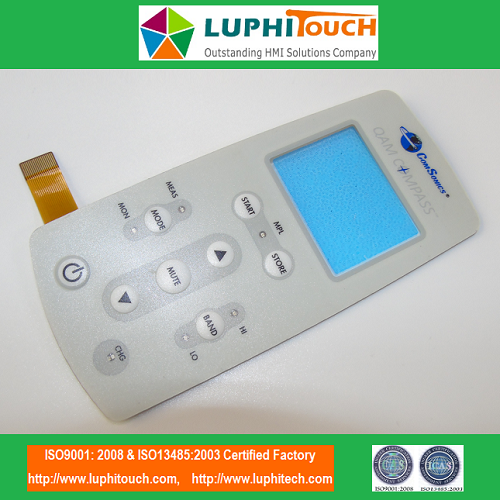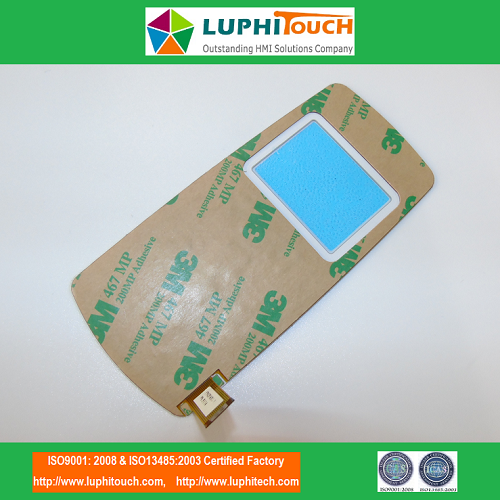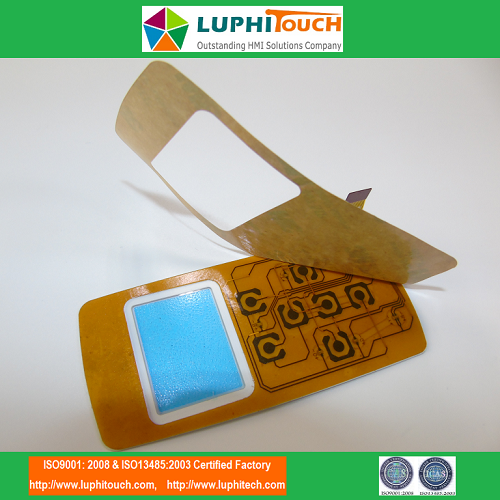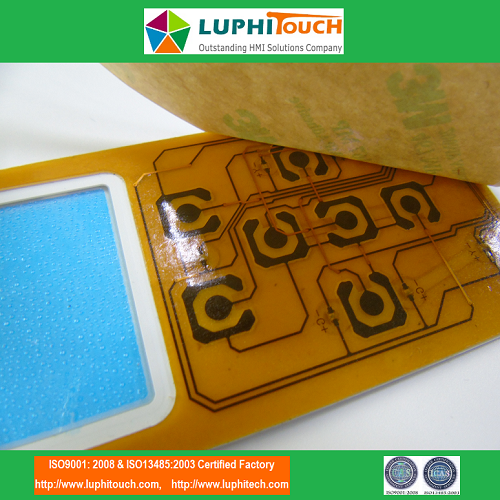 Membrane Switch/Membrane Keypad/Membrane Keyboard Description:
> Construction:
A membrane switch typically has 6 or more or less layers. The top layer of a membrane switch is the graphic overlay interface between the user and the machine. The other critical layer is a the circuit layer. It can also be PET, FPC or PCB. All the layers are normally assembled using pressure-sensitive adhesives. Contact between two traces can be made through a printed shorting pad or through a metal dome that stands on legs.
> Membrane Keypad Structure
1) 4 layers structure: Graphic overlay + Spacer + Circuit(can be PET circuit or FPC circuit) + Back Adhesive
2) 6 layers structure: Graphic overlay + Spacer: Dome Retainer + Spacer + Circuit(can be PET circuit or FPC circuit) + Back Adhesive;
3) Other Structure
3.1) Overlay + Rubber Adhesive + Rubber Keypad + Rubber Adhesive + Retainer + Spacer + Circuit + Back Adhesive;
3.2) Overlay + Spacer + Retainer + PCB Circuit;
And also there are many other kinds of structures for the interface keypads structure. It based on customer's real needs and we can design the suitable and economical structure for our customer's final application.
>
Main Technical Specifications:
Item

Description

Technical capabilities

1

Max. Size:

1200mm x 1000mm

2

Overlay Material:

PET: Autotype (Autotex F150,F200,F280, V150,V200,V280,




Autoflex EBG130, EBG180, EBG250,EBA130, EBA180, EBA250)




Autotex : XEV150, XEF200;




Autostat CT3,CT4,CT5,CT7




DuPont etc.




PC: GE LEXAN--8010 8B35 8B35F HP92S HP40 FR700 FR60

3

Spacer:

3M Adhesive, NITTO, TESA, SONY,SEKISUI, Domestic Adhesive

4

Back Adhesive:

3M(Mainly), Others(Little)

5

Silver Paste:

CHANGSUNG: CSP-3163, CSP-3352,CSP-5150;




ACHESON:ED 725A(6S-61),ED 427SS,ED 479SS,ED 976SS HV;




FUJIKURA and OTTI

6

Oil Ink:

SEIKO, JUJO, DUBUIT, PROELL,NORCOTE UV

7

Carbon Paste:

FUJIKURA, ACHESON ED 581SS, OTTI

8

6 Layers Metal dome Type Membrane Switch Structure

Overlay + Spacer + Dome Retainer + Spacer + Circuit Layer+ Back adhesive

9

4 Layers Polydome Type Membrane Switch Structure

Overlay + Spacer + Circuit + Back adhesive

10

Contact Resistance

0.5-10Ω

11

Insulation Resistance

≥10MΩ (100VDC)

12

Base Material Voltage Durable

2000V DC

13

Bounce Time

≤5ms

14

Working Current

≤100mA

15

Working Voltage

≤50VDC

16

Life

≥1,000,000 times

17

Key Travel

Flat type: 0.05mm-0.5mm, Tactile Type: 0.1-1.5mm

18

Working Temperature

-40ºC-+80ºC

19

Actuation Force

20-550g

20

Storage Condition

Temperature: -40ºC~+85ºC ,Humidity: ≤98% RH

21

PET Circuit Tail Flexible Feature

180°to any angle



---PACKAGING & SHIPPING--
-
| | |
| --- | --- |
| Packaging Details | 20 pcs in PP bag, then in hard carton box or Meet Customer's Demand |
| Delivery Detail | 13~14 working days |
| Shipping | TNT, DHL, UPS, FedEx |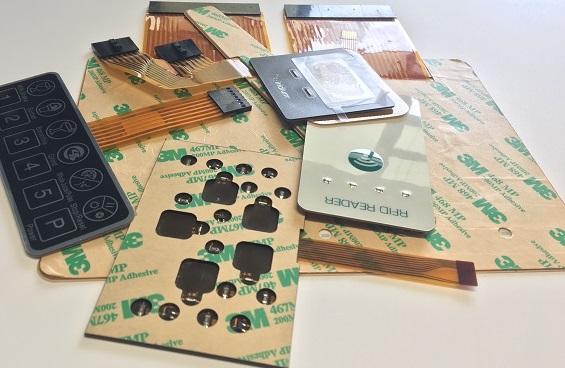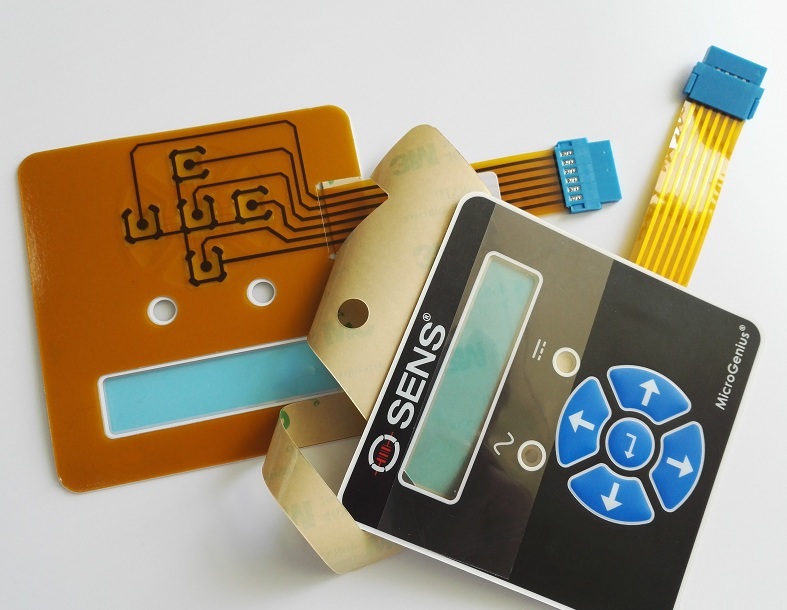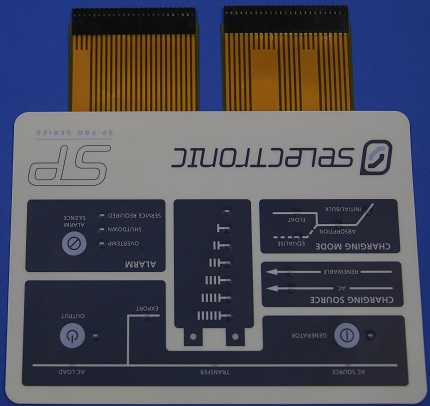 ---FAQ---
> Question 1: What kind of membrane switches we can produce?
Super big size membrane switches, membrane keypads, graphic overlays, membrane circuits, LED backlighting membrane switches, LGF backlighting membrane switches, EL backlighting membrane switches, capacitive membrane switches, rubber keypad membrane switches, FPC circuit membrane switches, PCB circuit membrane switches, metal back panel membrane switches, Acrylic/PC back panel membrane switches,, waterproof membrane switch, anti-UV membrane switch, anti-scratch membrane switch, digital printing membrane switch etc.
> Question 2: What is our shipping method?
Answer: for small quantity with low weight, we ship by FedEx, UPS, DHL, TNT express; for big quantity with high weight, we ship by sea or by plane; We also make shipment as per customer's instruction;
> Question 3: What is our certification?
Answer: ISO9001:2008, ISO13485:2003;
> Question 4: Can we provide the design service to our customer?
Answer: yes;
> Question 5: Can we provide the material sourcing service? for example sourcing the electronics components, plastic, metal, rubber, wireharness etc. parts for customer's PCBA projects?
Answer: yes;
>> Factory View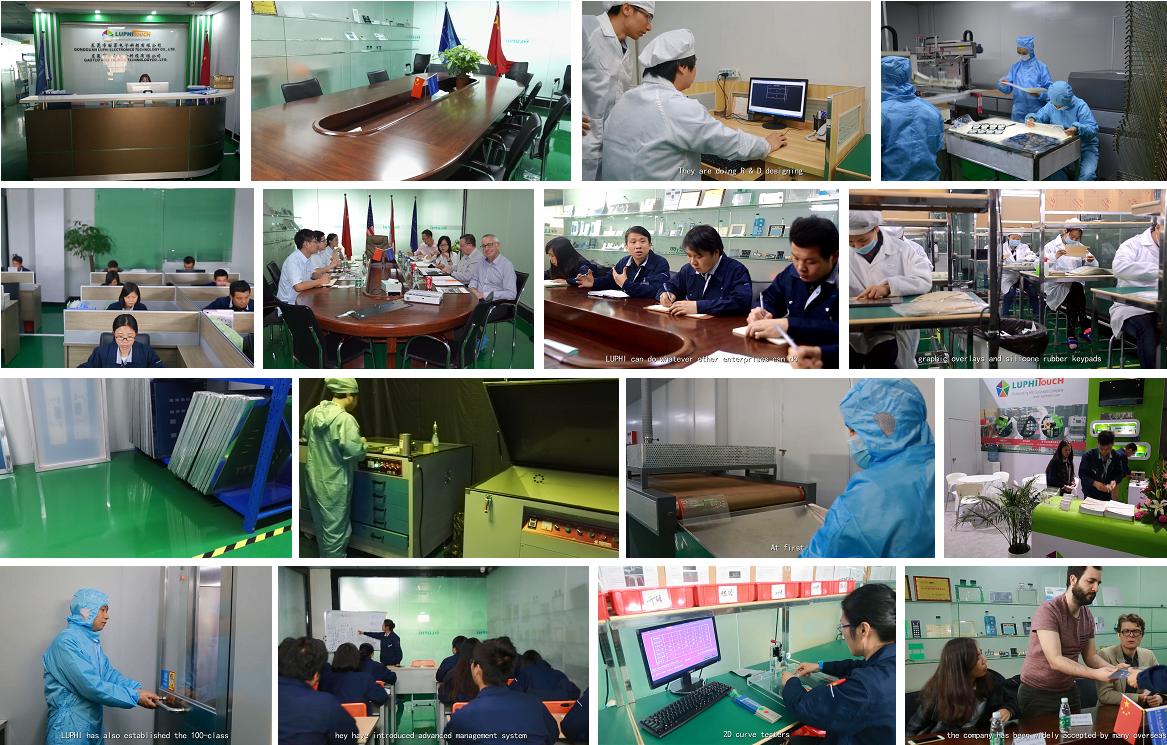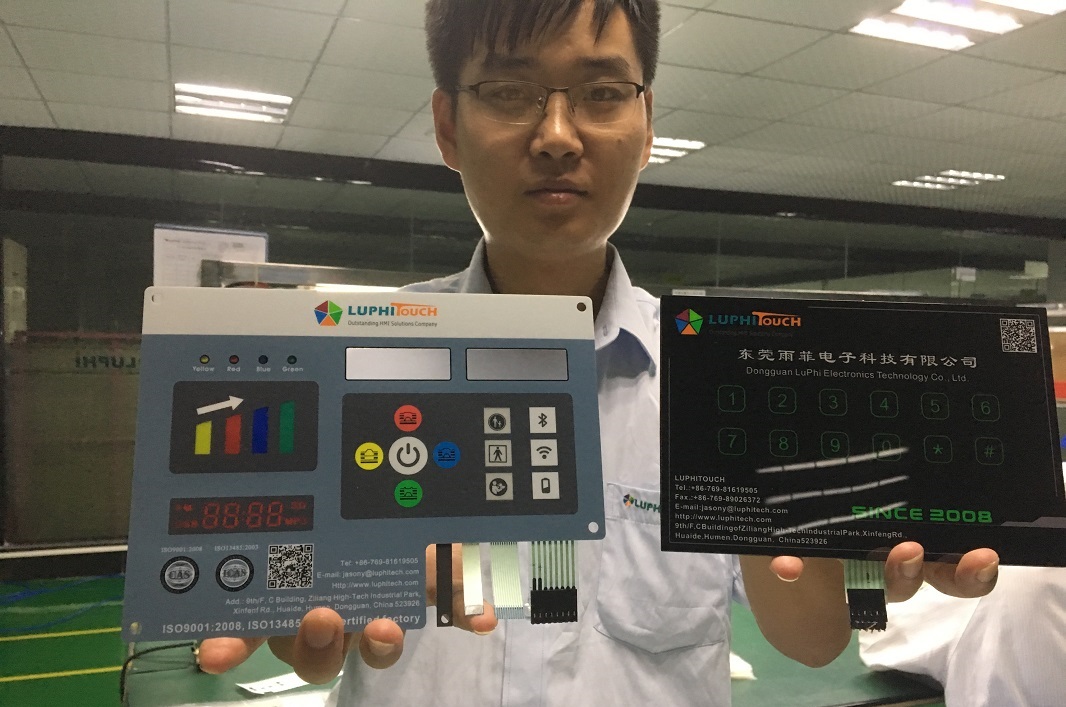 >> ISO Certificates: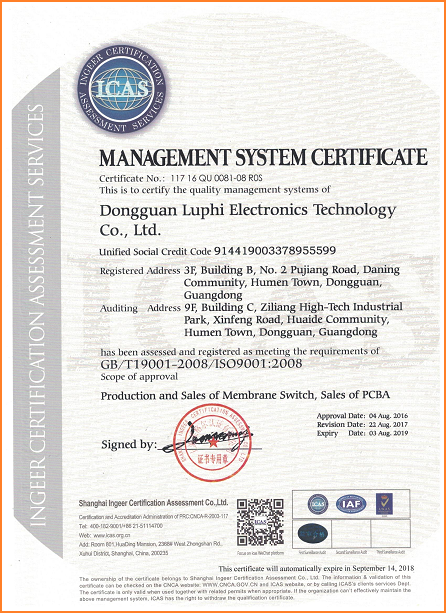 >> LUPHITOUCH Membrane Switch Served Markets: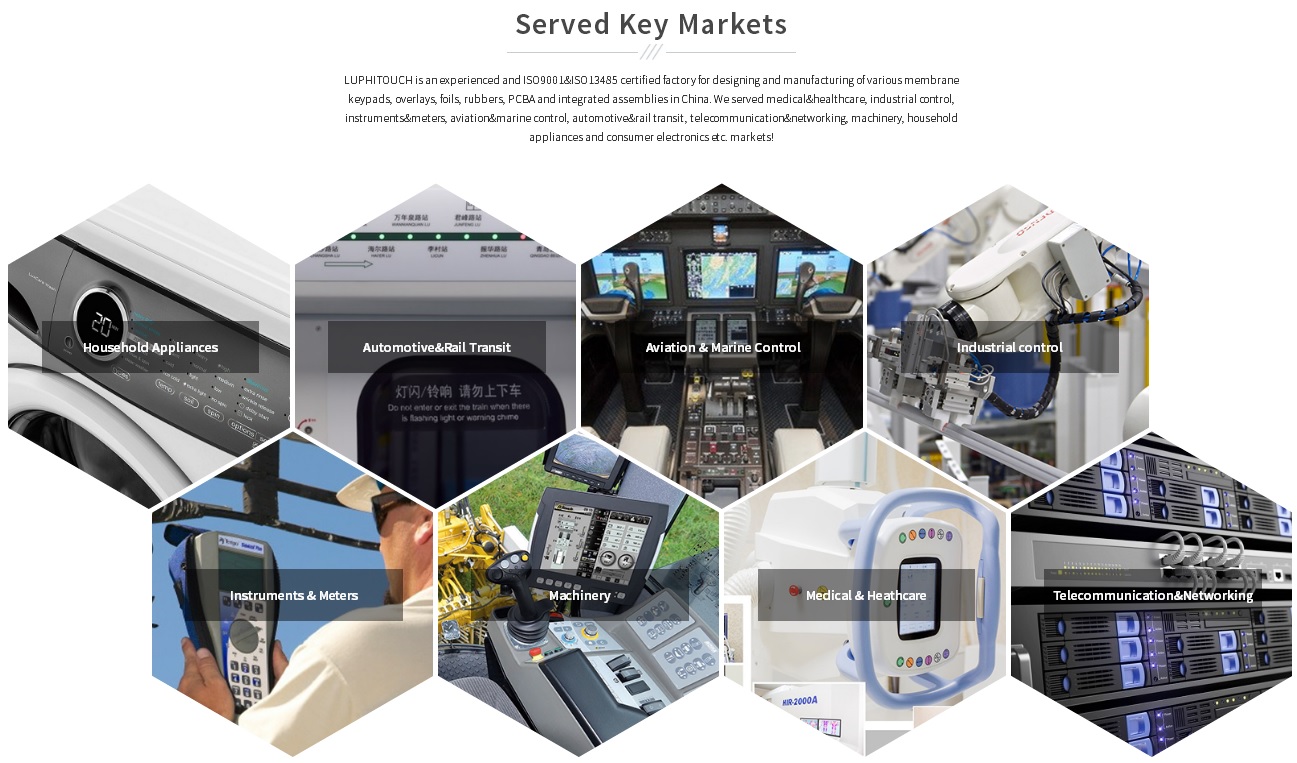 >> LUPHITOUCH Used Materials:
we only use high quality raw materials, and say no to bad quality and counterfeit materials!!!

Round Embossing Tactile Buttons FPC Circuit Membrane Switch, Tactile Buttons FPC Circuit Membrane Switch, Tactile Buttons FPC Circuit Membrane Keypad, FPC Circuit Board Membrane Switch

Группа Продуктов : Жесткая&Цепь Гибкого Трубопровода Переключателя Мембраны > Переключатели мембраны цепи fpc