LEDs Backlighting PCB Circuit Treadmill Membrane Keypad VTMS00302
China Professional Factory Customizing LEDs Backlighting PCB Circuit Treadmill Membrane Keypad (VTMS00302)
VTMS00302 is a kind of PCB circuit with LEDs backlighting membrane switch used for treadmill product. The circuit is double sided gold plated rigid PCB with tactile metal domes for buttons. The indicator LEDs assembled on front of PCB by SMT technology to achieve the good alignment. LUPHITOUCH passed ISO9001 and ISO13485 and our experienced engineers can help you to design the keypad structure, select proper raw materials and components and make production and testing.
Brand: LUPHITOUCH
MOQ: 100 pcs;
Lead Time: 13-15 working days;
Shipping Method: By FedEx, UPS, DHL express;
Production Capacity: 500000pcs/month;
LUPHI can provide the OEM and ODM service to our customers.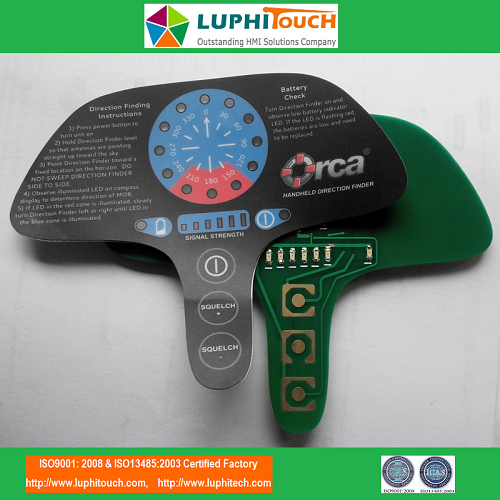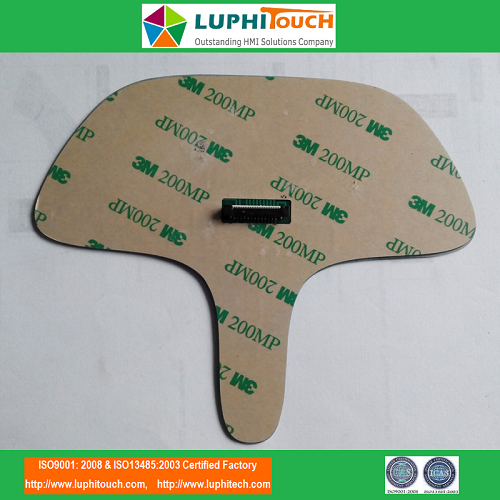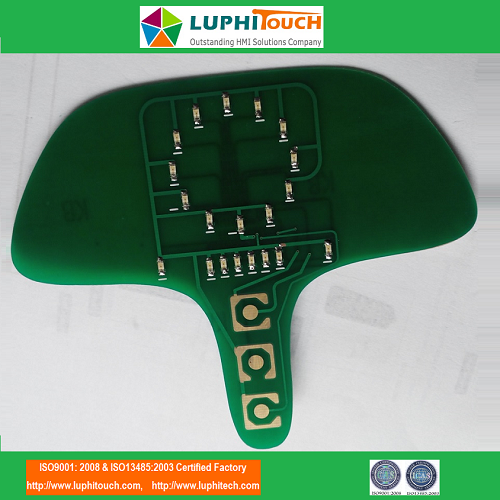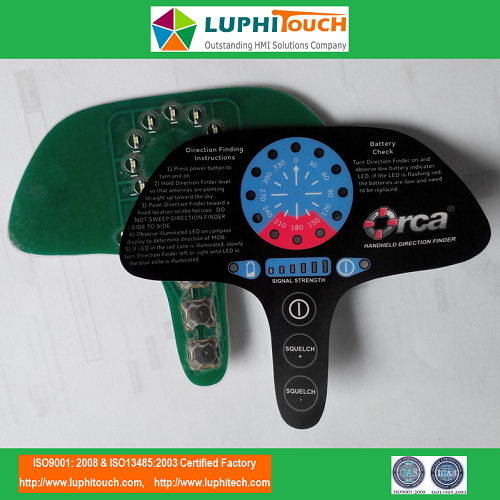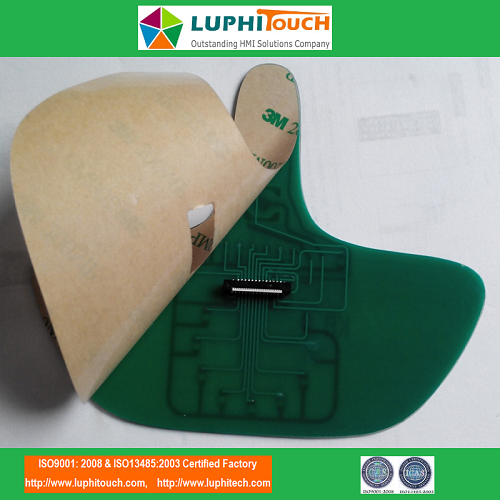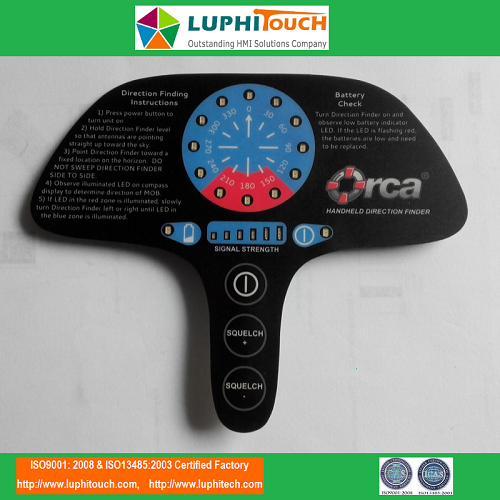 Specifications:
1. Type: Customs Shielding Membrane Switch with Tactile Feeling Embossing;
2) P/N: MIC0259
3) Size: 230 x 227mm;
4) Overlay Material: Autotype PET F150;
5) Back Adhesive: 3M467MP;
6) Printing: 4-color silk screen printing on the overlay;
7) Keys: 3 pcs round embossed keys with 3pcs metal domes;
8) Circuit Layer: double sided PCB;
9) Connector: ZIF;
Dongguan LuPhi Electronics Technology Co., Ltd. is a professional manufacturer of high quality HMI products and electronics project assembly, offers a wide range of innovative membrane switch panel capabilities. LUPHI utilizes the latest switch panel technologies, high quality imported raw materials and specializes in integrated switch panel assemblies. These membrane switch panels are ideal for a variety of medical industry application. LUPHI's membrane switch panels can be ergonomically designed for ease of use.
LUPHI's dynamic membrane switch panels feature embossed graphics, integrated LED's, selective solvent resistant textures, colored window displays, waterproof, LGF backlighting, custom sheet metal backers or enclosures and ESD shielding. These panels can be designed for specific environments including operating rooms, diagnostic centers and bedside use where sealing and durability are required.
LUPHI's highly knowledgeable Field Applications Engineers hasve extensive medical device experience which aid the design process. Additionally, LUPHI can integrate switches from its broad catalog offerings such as E-stops, key switches, toggles and pushbuttons with necessary wiring harnesses included.
Panels are typically designed with Ni-plated metal dome for a durable tactile response but can also incorporate polyester domes or be supplied without tactile feedback. Mechanical switches can be integrated in the design to provide additional functionality. For most applications, a NEMA-4 or IP65 seal can be achieved and, for more demanding applications, IP67 can be achieved. For flexible panels, a variety of interconnect technologies can be utilized to provide the best connection to suit the customer's packaging.
About LUPHI Since 1998, LUPHI has started the business of the HMI products in China mainland. Offering one of the broadest product lines on the market, LUPHI's products line includes super big size membrane switches, big size PET printed circuits, LED backlighting membrane switches, LGF backlighting membrane keypads, El backlighting keypads, capacitive membrane keypads, PCB/FPC circuit membrane switches, rubber keypad, LCDs, touch panels, OCA full lamination processing, PCB Assembly, turnkey project assembly etc. For more information about LUPHI or its broad line of products, contact us right now for your needs.
> Our Services and Advantages:
1) Artwork design and making;
2) Has our own finally assembly factory which can assemble the complicated keypads with plastic, metal, PCB, FPC etc.
3) Design improvement suggestion against the customer's original design;
4) Experienced workers and engineers;
5) ISO certified factory;
6) Imported material, like the Autotype PET, 3M adhesive, Nicomatic connector etc.
> Membrane Keypad Structure
1) 4 layers structure: Graphic overlay + Spacer + Circuit(can be PET circuit or FPC circuit) + Back Adhesive
2) 6 layers structure: Graphic overlay + Spacer: Dome Retainer + Spacer + Circuit(can be PET circuit or FPC circuit) + Back Adhesive;
3) Other Structure
3.1) Overlay + Rubber Adhesive + Rubber Keypad + Rubber Adhesive + Retainer + Spacer + Circuit + Back Adhesive;
3.2) Overlay + Spacer + Retainer + PCB Circuit;
And also there are many other kinds of structures for the interface keypads structure. It based on customer's real needs and we can design the suitable and economical structure for our customer's final application.
Technical Parameters:
Item

Description

Technical capabilities

1

Max. Size:

1200mm x 1000mm

2

Overlay Material:

PET: Autotype (Autotex F150,F200,F280, V150,V200,V280,




Autoflex EBG130, EBG180, EBG250,EBA130, EBA180, EBA250)




Autotex : XEV150, XEF200;




Autostat CT3,CT4,CT5,CT7




DuPont etc.




PC: GE LEXAN--8010 8B35 8B35F HP92S HP40 FR700 FR60

3

Spacer:

3M Adhesive, NITTO, TESA, SONY,SEKISUI, Domestic Adhesive

4

Back Adhesive:

3M(Mainly), Others(Little)

5

Silver Paste:

CHANGSUNG: CSP-3163, CSP-3352,CSP-5150;




ACHESON:ED 725A(6S-61),ED 427SS,ED 479SS,ED 976SS HV;




FUJIKURA and OTTI

6

Oil Ink:

SEIKO, JUJO, DUBUIT, PROELL,NORCOTE UV

7

Carbon Paste:

FUJIKURA, ACHESON ED 581SS, OTTI

8

6 Layers Metal dome Type Membrane Switch Structure

Overlay + Spacer + Dome Retainer + Spacer + Circuit Layer+ Back adhesive

9

4 Layers Polydome Type Membrane Switch Structure

Overlay + Spacer + Circuit + Back adhesive

10

Contact Resistance

0.5-10Ω

11

Insulation Resistance

≥10MΩ (100VDC)

12

Base Material Voltage Durable

2000V DC

13

Bounce Time

≤5ms

14

Working Current

≤100mA

15

Working Voltage

≤50VDC

16

Life

≥1,000,000 times

17

Key Travel

Flat type: 0.05mm-0.5mm, Tactile Type: 0.1-1.5mm

18

Working Temperature

-40ºC-+80ºC

19

Actuation Force

20-550g

20

Storage Condition

Temperature: -40ºC~+85ºC ,Humidity: ≤98% RH

21

PET Circuit Tail Flexible Feature

180°to any angle
>> Factory View: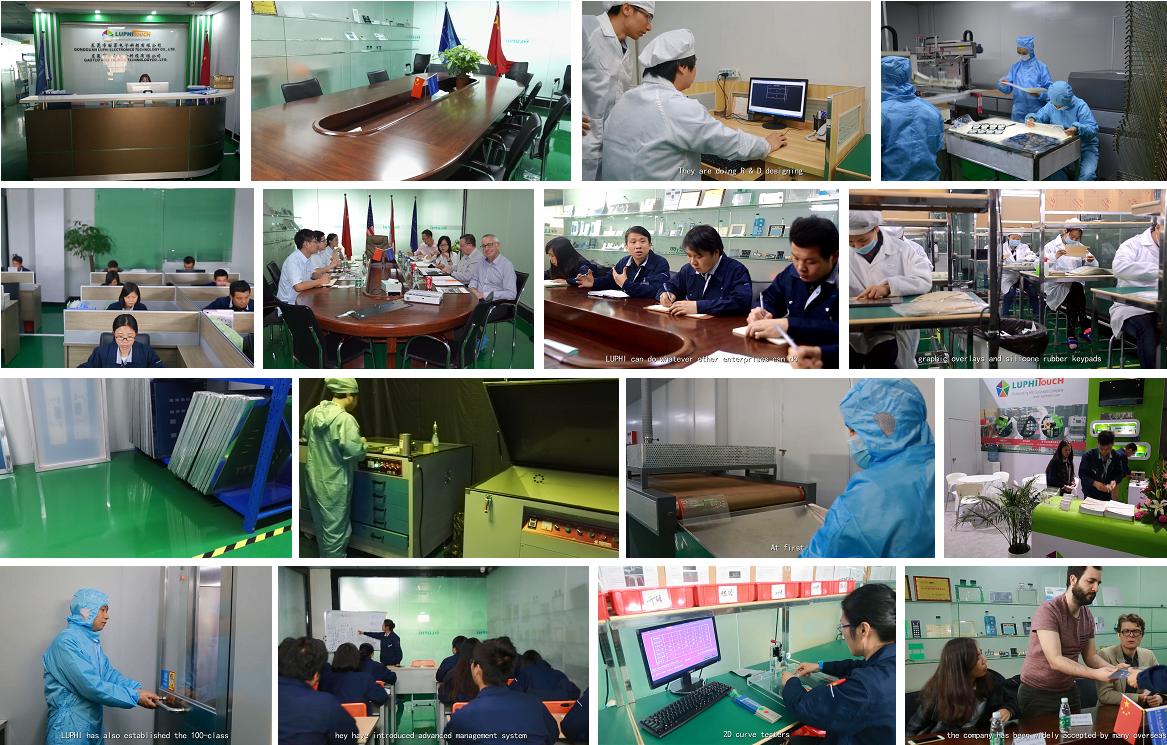 >> ISO Certificates: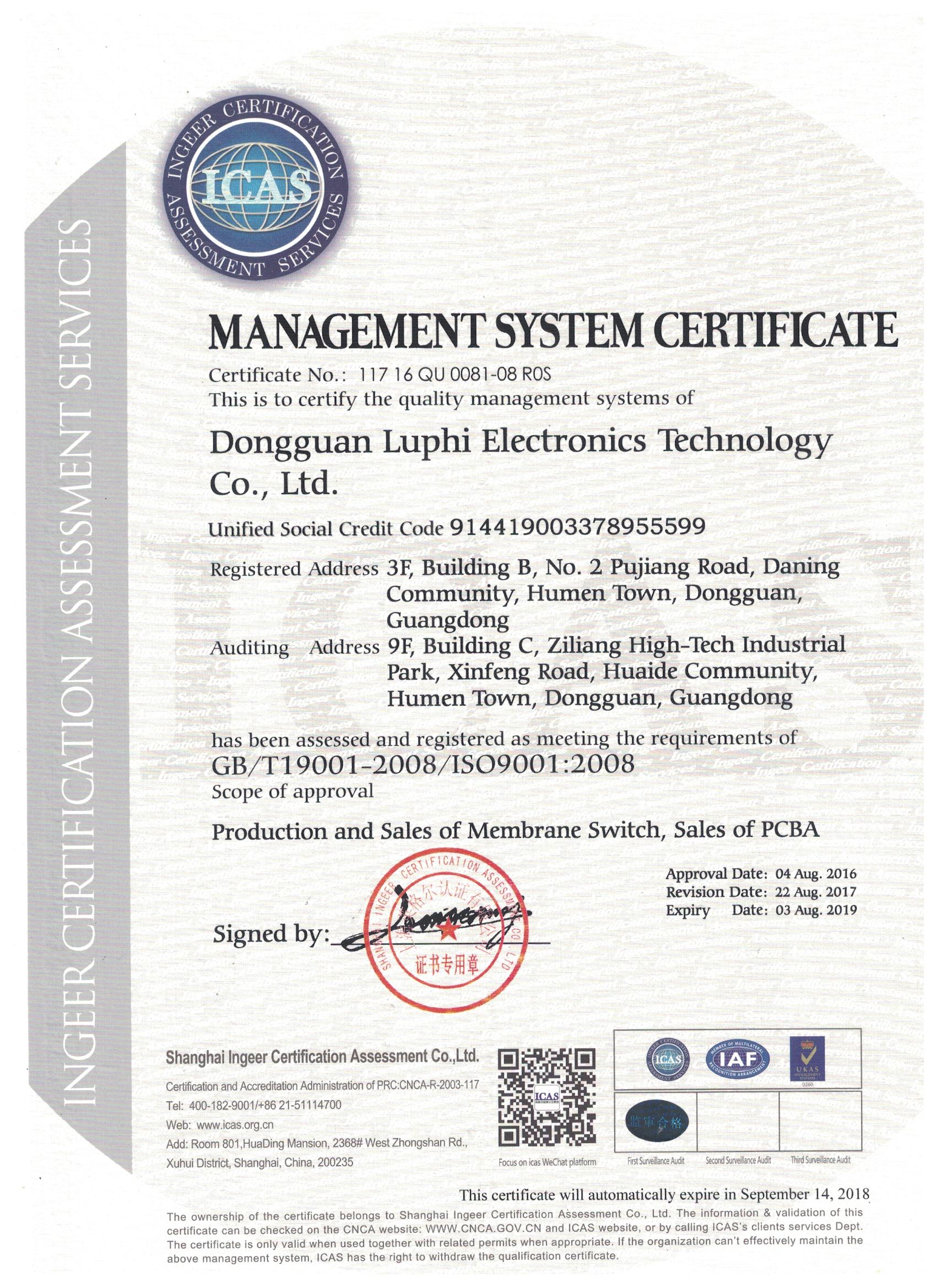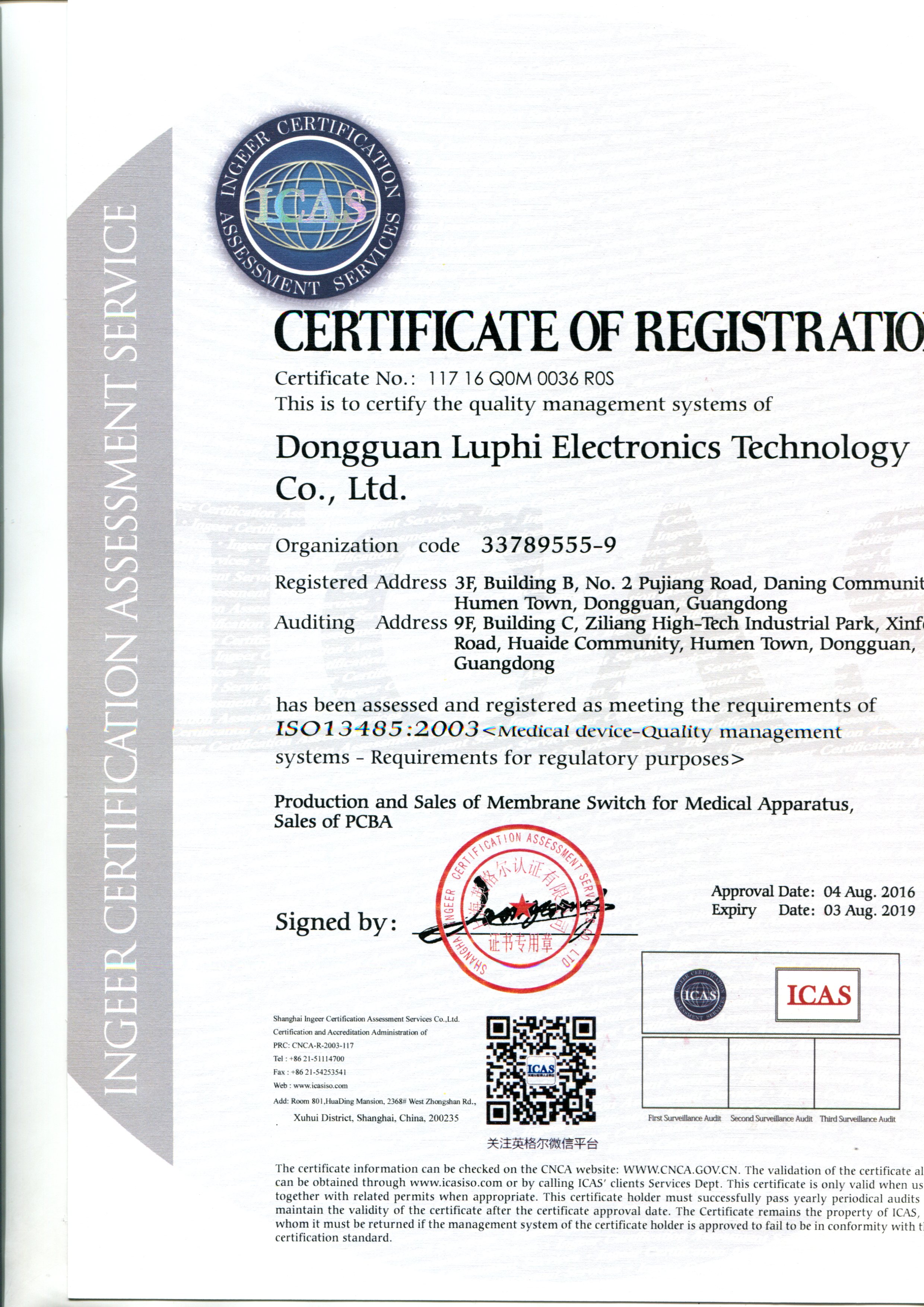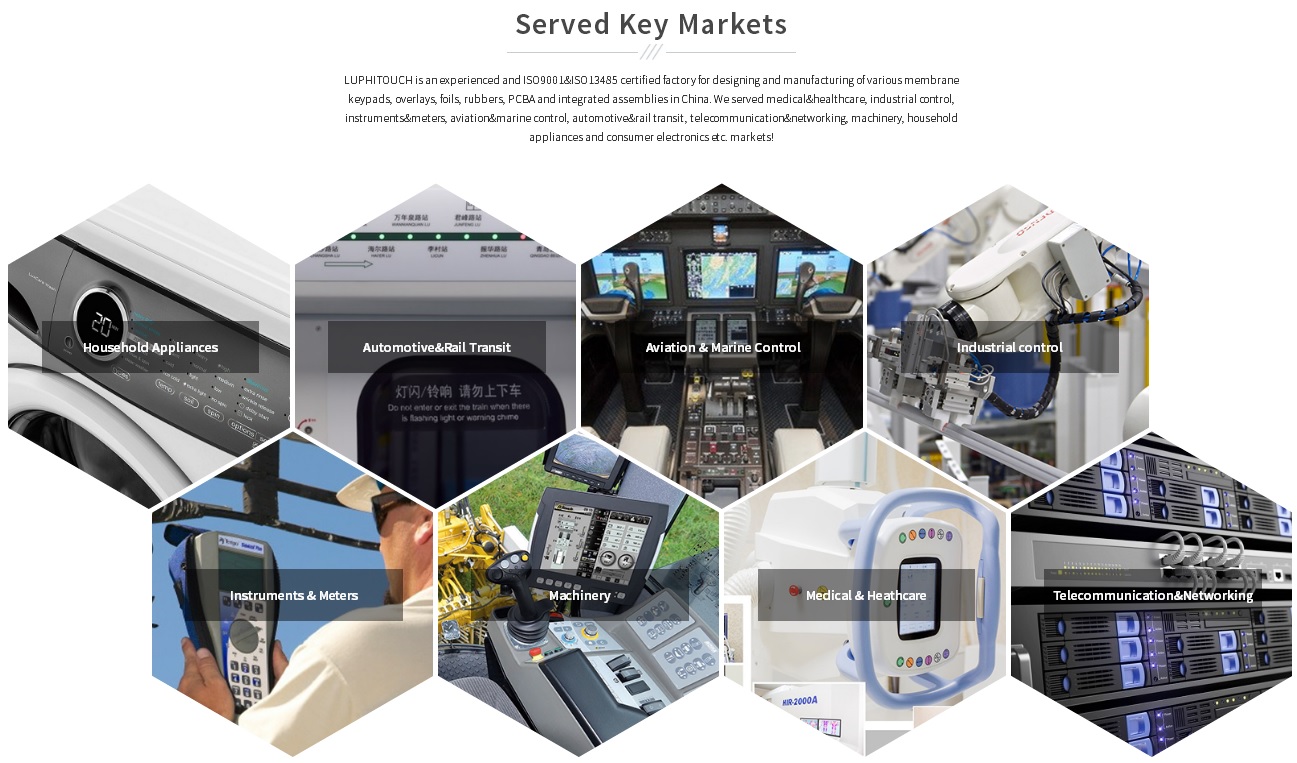 LEDs Backlighting PCB Circuit Treadmill Membrane Keypad, Treadmill Membrane Keyad, Treadmill Membrane Switch, PCB Membrane Keypads
Группа Продуктов : Жесткая&Цепь Гибкого Трубопровода Переключателя Мембраны > Цепи Переключатели мембраны PCB